Benefits of LSC – A Platinum Rated Corridor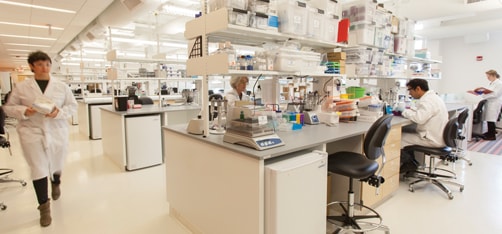 The Life Sciences Corridor is Platinum Rated, the highest rating given by MassBio as part of its BioReady Communities Campaign expedited permitting policies, by-right zoning, supportive public infrastructure projects, pre-permitted biotech sites, planned area developments are examples of the increasingly supportive public policies in the Life Sciences Corridor.
Find out about available space
Location
Logan International airport has over 361,339 flights per year (2013) with 56 air carriers, 16 of which are international carriers.
Minutes from Corridor: 34 islands and more than 3,000 acres to explore, camp, hike, boat, kayak, swim, and fish.
Over 60 miles of coastline, boasting beaches and waterfront recreation from Boston to Quincy.
City of Champions: Only city ever to win all four pro championships in 10 years.
45+ museums and over a dozen theaters.
Space and Availability
The Life Science Corridor has over 27.7 million square feet of Research & Development /Lab (Existing, planned or under construction).
The Corridor has over 15 million square feet of lab space currently available.
Since 2007, just over 5 million square feet of commercial lab space has been added to the inventory in Massachusetts, now totaling to 21,122,724 square feet.
The Corridor has more square feet for academic and research institute facilities than any other cluster in the nation.
Innovation Centers
The Life Science Corridor is home to numerous innovation centers, shared office/laboratory space, and accelerator programs.
These facilities offer a variety of amenities and services, with connections to the region's intellectual talent, venture capital, angel investors and state agencies to bring your product or idea to market.
Many are within walking distance of the MBTA Red Line subway.
World's largest startup competition and accelerator, MassChallenge.
NIH Funding
Since 1995, Boston received over $27 billion in total NIH funding.
Half of the top 18 NIH-funded independent research hospitals are located within the Life Sciences Corridor
(FY 2012).
The Life Sciences Corridor received over 2 billion in NIH Awards. Boston's total NIH for fiscal 2012 at $1.8 billion extending Boston's streak as the nation's leading city in NIH funding to 19 consecutive years.
Access to Talent
With over 80 colleges and universities, the Corridor has the largest percentage of college students in the nation.
Cambridge is home to both Harvard University and the Massachusetts Institute of Technology. 72% of Cambridge residents have a Bachelors Degree or higher.
The region is home to the top medical schools in the country – Harvard Medical, Tufts University School of Medicine and Boston University School of Medicine.
Boston is home to 22 world-renowned teaching hospitals and academic medical centers.
Quincy is home to Quincy College which has the regions only Biotechnology and Compliance Curriculum to train laboratory technicians and research assistants.
Employment
The Life Sciences Corridor employs over 36,250 people in the life sciences sector.
Massachusetts biopharma industry has grown by 42% in employment over the past ten years.
The study estimates that there are 74,000 employees in greater Boston within the industry sub-sectors of pharmaceuticals, biotechnology and medical devices; ranking us as the 2nd in the nation for highest percentage of its workforce in these industries.
Research and Development
7% of Massachusetts's GDP is dedicated to Research & Development (more than any other state).
Massachusetts has more employment classified as Biotechnology Research and Development than any other state (27,883).
Massachusetts headquartered drug development contributes to 5% of the global and 11.3% of the U.S pipelines.
Venture Capital Investment
Venture investment in MA rose to $846 million in 2013
State Resources in support of the Life Sciences Sector